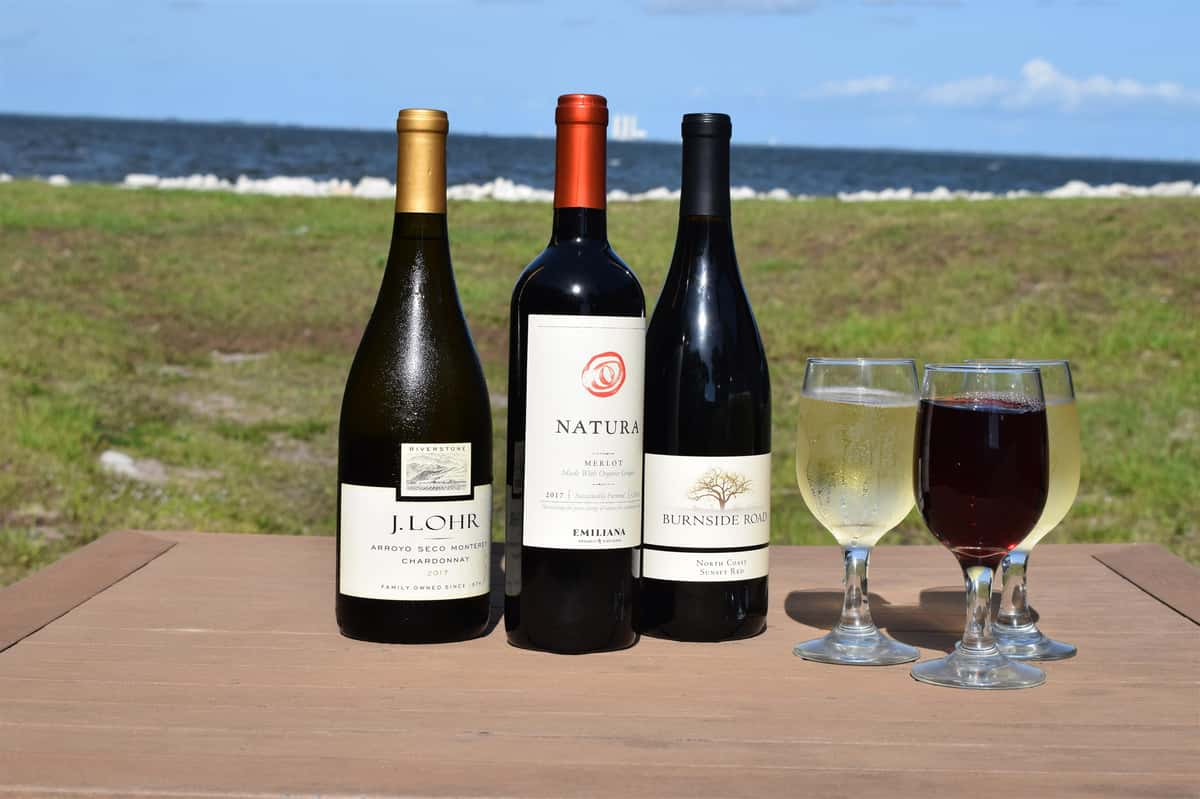 Wine List
House Wine
Coastal Vines
We proudly carry Coastal Vines for our house wine selection, available by the glass. They produce quality wines in an array of cuvees with great value.

WHITES
Pinot Grigio
Chardonnay

REDS
Merlot
Cabernet Sauvignon
Pinot Noir
BLUSH
White Zinfandel

RED WINES
Liberty School
Cabernet Sauvignon
California Central Coast AVA
✓By The Glass
✓By The Bottle
From Paso Robles in the south of the Central Coast, this Cabernet Sauvignon is bold and dry, with mild acidity and supple tannins. The flavor features heavily on blackberries and plums, with notes of savory spices and herbs, vanilla, and hints of toasted oak. Pairs well with beef, lamb, venison and other game meats.
Extraction
Red Blend
California Central Coast AVA
✓By The Glass
✓By The Bottle
Hailing from the Santa Ynez region, this robust traditional california red blend is bold, dry, and moderately acidic, and just slightly tannic. Notes of ripe red berries and very subtle oakiness make this an easy wine to pair with many meals, particularly with leaner red meats.
Burnside Sunset
Red Blend
California North Coast AVA
✓By The Glass
✓By The Bottle
Grown in the hills and valleys just north of San Francisco, this is a rare blend, called so because it contains an unusual composition of varietals. For Burnside Sunset that is primarily Petite Sirah, Sangiovese, Zinfandel, and Syrah grapes. A bold, dry red that is well balanced in acidity and tannic structure, the flavor of this blend has notes of vanilla, blueberry, and black cherry notes, with subtle hints of oak, cedar, and tobacco. This wine pairs well with beef, veal, and lamb and other meals with rich and savory elements.
Hahn
Pinot Noir
California Central Coast AVA
✓By The Glass
✓By The Bottle
From the Monterey County Arroyo Seco region, Hahn Family is famous for its Pinot Noir. Smooth, dry, well balanced in acidity and flavor, this wine is very aromatic, and has strong scents of strawberries, raspberries and cherries, while the flavor is very heavy on black stone fruits with subtle earthy and vanilla notes. The soft body and fruity notes of this wine lend it to pairing well with traditional red meat, but also with game meat such as venison, as well as chicken and turkey.
Love Noir
Pinot Noir
Trevenezie IGT, Italy
✓By The Bottle
Grown by Sartoni di Verona in the northeastern region of Veneto, almost perfectly centered between Verona and Venice. This vintage is on the bold and dry side, with a very soft acidity, and with well structured, supple tannins. The flavors are rich with cherry and pomegranate, with a finish that is filled with chocolate and earth notes. It pairs well with the standard red pairings of beef and lamb, as well as pasta and game.
Natura
Organic Merlot
Rapel Valley, Chile
✓By The Glass
✓By The Bottle
Emiliana Organic Vineyards grow varietals for their Merlot in the Central Valley just north of San Fernando, along the boundary between the Cachapoal and Colchagua regions. The wine is characterized by its bold flavor, smooth tannins, dryness, and soft acidity. The nose is earthy and oaky, and the flavor is of dried red berries, chocolate, vanilla and oak, with hints of spice and pepper.
Portillo
Malbec
Mendoza, Argentina
✓By The Glass
✓By The Bottle
Grown in the Bodegas Salentein vineyards located in the Uco Valley of central western Argentina, due east of Santiago, Chile. The entire Mendoza region is a high elevation plateau resting against the eastern side of the Andes mountain range, and sources some of the best Malbecs in the world. The character of the wine is described as understated boldness, smooth tannins, slightly dry, and well balanced acidity. Fruit foward and complex, with strong notes of plums, blackberries, black cherries and currants, with hints of leather, tobacco, coffee, chocolate and oak. Pairs wonderfully with beef and lamb.
Norton 1895 Coleccion
Malbec
Mendoza, Argentina
✓By The Glass
✓By The Bottle
Grown in the Bodega Norton vineyards, one of Argentina's largest and highest ranking producers. Bodega Norton sources from their multiple estate vineyards in the Mendoza region for their cuvées, each with distinct terroirs. The 1895 Coleccion Malbec is best described by its light-medium body and acidity, with soft, supple tannins and a light dryness. Rounded flavor notes of cassis, black cherry, plum, and chocolate make this wine very easy on the palate. Paired best with beef, lamb, or venison.
Louis Jadot
Gamay
Beaujolais-Villages
✓By The Glass
✓By The Bottle
WHITE WINES
Acrobat
Pinot Gris

✓By The Glass
✓By The Bottle
Bel Vento
Pinot Grigio

✓By The Glass
✓By The Bottle
Love Story
Pinot Grigio

✓By The Bottle
J. Lohr River
Chardonnay

✓By The Glass
✓By The Bottle
Fenwick Springs
Chardonnay

✓By The Glass
✓By The Bottle
Uncaged by Zac A. Brown
Organic Merlot

✓By The Glass
✓By The Bottle
Stingray Bay
Sauvignon Blanc

✓By The Glass
✓By The Bottle
Ferrari Carano
Fume Blanc

✓By The Glass
✓By The Bottle
Pacific Rim
Riesling

✓By The Glass
✓By The Bottle
SPARKLING WINES
Allure
Moscato

✓By The Glass
✓By The Bottle
Andre Brut
Champagne

✓By The Glass
✓By The Bottle
Decordi
Sangue de Giuda

✓By The Glass
✓By The Bottle
Rotari Brut
Trento DOC

✓By The Glass
✓By The Bottle
La Gioiosa
Prosecco

✓By The Glass
✓By The Bottle
Proprietor's List
Chalk Hill
Sauvignon Blanc

✓By The Bottle
Cuvaison
Chardonnay

✓By The Bottle
Truchard
Cabernet Sauvignon

✓By The Bottle
Hall
Cabernet Sauvignon

✓By The Bottle
Chalone Estate
Pinot Noir

✓By The Bottle
Ladies Who Shoot Their Lunch
Shiraz

✓By The Bottle